---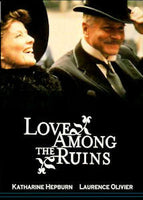 Sale
Love Among the Ruins 1975 DVD (Region 1 - Playable in North America - The US, Canada, Mexico, etc.). Color.

Starring: Katharine Hepburn, Laurence Olivier. Directed by George Cukor.

A witty and wonderful romantic comedy starring two of the greatest performers of all time, under the guiding hand of a legendary Hollywood director. In the prim, proper world of upper class England an aging beauty is accused of having seduced and abandoned a man young enough to be her grandson - and now he is suing her for £50,000 for breach of promise. She turns to the greatest barrister in the Empire to defend her, a man she seduced and abandoned some forty years earlier!
Sublime.