---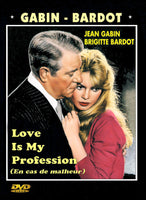 Sale
Love Is My Profession (En Cas de Malheur) 1958 DVD (Region 1 - Playable in North America - The US, Canada, Mexico, etc.) Black and white. French with English subtitles. Beautifully re-mastered.
Starring: Jean Gabin, Brigitte Bardot, Edwige Feuillère, Claude Magnier. Directed by Claude Autant-Lara.
Distinguished lawyer André Gobillot (Jean Gabin) successfully defends a beautiful young prostitute, Yvette Maudet (Brigitte Bardot – 22 years old and at her sensual best), who has committed a robbery. After he gets her acquitted, he falls in love with her, putting his reputation and marriage at risk. Gobillot, who is middle-aged and bored and perhaps a little regretful of the piety of his career, attempts to teach the sexy Yvette some class, all the while his wife (played wonderfully by Edwige Feuillère) continues to be courteous yet resentful of his callous attentions to a girl of plainly inferior condition. Yvette cannot control herself and in true nature is unfaithful to the smitten lawyer, and ends running into trouble in the form of her jealous lover Mazzetti (Claude Magnier), who has a murderous temper.
"A frankly shocking film about a man's obsession with his mistress."