---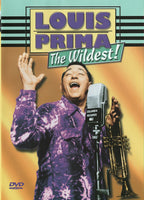 Louis Prima: The Wildest! (1999) DVD Color and B&W 1999 Approx. 80 min. (Region 1 - Playable in North America – the US, Canada, Mexico, etc.) with Louis Prima, Sam Butera, Keely Smith, Ron Cannatella, Frank Federico, Will Friedwald
Before Frank Sinatra, Dean Martin, Tom Jones, Tony Bennett or Engelbert Humperdinck ever played the stages of Vegas, there was Louis Prima. One of America's most hypnotic and original performers, Prima's career spanned several decades and turned out hits like "That Old Black Magic," "Sing, Sing, Sing," "Just a Gigolo," "I Ain't Got Nobody" and "Jump, Jive an' Wail." In Disney's animated classic "The Jungle Book," Prima created the "hep" voice of King Louie the orangutan. This film profiles the magnetic Louis Prima in a nostalgic historical journey through the music scenes of a racy New Orleans, the swinging jazz culture of uptown New York and Las Vegas's "formative" years. As a solo act or with his wife, acclaimed singer Keely Smith, Louis Prima was and will forever be the "wildest" man in show business!
He may have been "just a gigolo," but it's easy to understand why Louis Prima continues to find audiences both young and old. The trumpeter and bandleader was at the forefront of the rock & roll movement, he was the epitome of the cool, singing and swinging Italian crooner ("Oh Marie"), and he achieved immortality as King Louie in Disney's Jungle Book. But the entertainer also went through five wives, struggled to keep up with new musical trends, and, ultimately, will be remembered as one of the world's great lounge acts.
 "Louis Prima: The Wildest!" chronicles his rise to fame from his early years in the French Quarter of New Orleans to his glory days in Sin City. Interviews with jazz critics, former wife Keely Smith, and numerous bandmates abound in this well-made documentary. But the real highlight for Prima fans will be the live music footage, showcasing Smith and Prima singing in their prime, his crackerjack band that knew how to swing, twist, and rock when it mattered, and Prima's incredible stage presence. The fascinating footage is abundant here- -from "Chinatown" to "Sing, Sing, Sing" to an awe-inspiring performance of "I'm in the Mood for Love." No one can ever sum up what makes Prima so magical, but the music speaks for itself. Added DVD features include some uncut concert performances and a few audio-only bonus tracks.
"The movie is a beautiful thing. No documentary, about any musician, will make you so glad." – San Francisco Examiner