---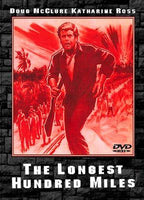 Sale
The Longest Hundred Miles 1967 Color DVD (Region 1 - Playable in North America - The US, Canada, Mexico, etc.)
Starring: Doug McClure, Katharine Ross, Ricardo Montalban
During the Japanese invasion of the Philippines, an assorted group of refugees, including an American soldier (Doug McClure), an Army nurse Katharine Ross), a priest (Ricardo Montalban) and a group of local children, try to make their getaway aboard a rattletrap, creaky bus. Shot on location in The Philippines.
The song "500 Miles" was made popular by this film.
*Very, very few prints of THE LONGEST HUNDRED MILES exist. After an extensive search we found what we believe to be the best surviving elements. We are pleased to make this available here on DVD, however the quality is not what you would expect of a state-of-the-art re-mastered print. It is rough. On a scale of 1 to 10 it would be a six or seven. But it is great for those who truly wish to see this almost lost wonderful war film.