---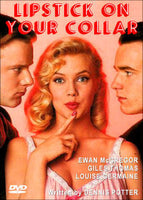 Sale
Lipstick on Your Collar 1993 DVD (Region 1 - Playable in North America - The US, Canada, Mexico, etc.) Mini-series. 2 Discs. Color.
Starring: Ewan McGregor, Giles Thomas, Louise Germaine. Written by Dennis Potter.
The hilarious Dennis Potter musical skewering of 1950s England during the Suez crisis. Austerity be gone! The war is over. It s time for frothy coffee in Soho cafes, teenage kicks and rock'n'roll music! But not for Private Hopper in his last months of national service. Hopper has been assigned to the War Office where he is responsible for translating anything that comes from the Russians, and brewing regular cups of the barely bloody drinkable. When he gets bored, he can always dream himself into a musical landscape where anything is possible. In the real world Hopper finds himself caught up with a real cast of characters. Private Francis Francis, new to the big city and completely out of his depth; the Corporals, Colonels and Majors who make life not worth living on a daily basis; cinema organist Harold Atterbow, a man with a dark and sweaty secret, and the beautiful temptress Sylvia - bountiful blonde usherette at the local Odeon - who will bring them all crashing onto the rocks of desire.