---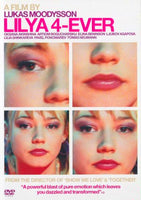 Sale
Lilya 4-Ever DVD 2002 (Region 1 - Playable in the US, Canada, etc.) Widescreen. Color. Swedish & Russian with English subtitles. 
Starring: Oksana Akinshina, Artyom Bogucharsky, Lyubov Agapova, Liliya Shinkaryova, Elina Benenson. Directed by Lukas Moodysson. New lower price!

The brilliant and controversial drama from director Lukas Moodysson, about a young girl abandoned by her family. Living in the poverty-stricken former Soviet Union, Lilya (Oksana Akinshina) descends into a spiral of drink, drugs and prostitution, befriending suicidal teenagers and falling further into a dark and dangerous world. When she meets a man who promises to take her to a better life in Sweden, it's the beginning of an even more harrowing journey into degradation.
Winner of 12 International Film Awards.
"Director Lukas Moodysson has achieved a film that is so moving that it is hard to forget it after leaving the theater. Images come back into one's mind about this story about this girl. The tragedy of her life is something to be shocked and alarmed."

English subtitles.