---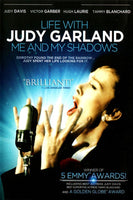 Sale
Life with Judy Garland - Me and My Shadows 2001 DVD (Region 1 - Playable in North America - The US, Canada, Mexico, etc.) Widescreen 188 min.
Starring: Judy Davis, Victor Garber, Hugh Laurie, Tammy Blanchard, John Benjamin Hickey and Sonja Smits Based on the book by Judy Garland's daughter Lorna Luft.

The remarkable story of Hollywood legend Judy Garland is vividly told in this widely acclaimed film, which features amazing, Emmy Award-winning portrayals by Judy Davis (Best Actress) and Tammy Blanchard (Best Supporting Actress).
Loved by millions the world over, Judy was the brightest star in Hollywood's Golden Era. Away from the bright lights and brilliant performances, however, her devotion was to her family. But while she loved her children unconditionally, they could only desperately try and hang on to their mother as a powerful dependence on alcohol and prescription drugs began to consume her life. Based on the book by Garland's daughter Lorna Luft, and honored recipient of 5 Emmy Awards, LIFE WITH JUDY GARLAND - ME AND MY SHADOWS is a deeply moving testament to the healing powers of embracing one's past, facing one's demons, and charting a course of self-discovery.
* * * * - USA Today
"Brilliant" – The Los Angeles Times
"Powerful" – The New York Times