---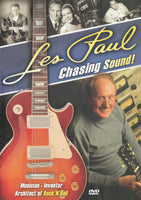 Les Paul Chasing Sound (2007) DVD Color/Black and white Approx. 90 min. Aspect 16:9 Anamorphic (except for archival material) subtitles for the deaf and hard of hearing (HOH). Plus much more! Region One – Payable in North America – the US, Canada, Mexico, etc.
With: Les Paul, Richard Carpenter, Kay Starr, Tony Bennet, Jeff Beck, Bonnie Raitt, Keith Richards, Paul McCartney, Steve Miller, Alastair Cooke, BB King, Anderson Cooper, Ahmet Ertegun, Merle Haggard, Phil Ramone, Richie Sambora, Eddie Van Halen and many, many more. New lower price!

Guitar wizard, inventor, architect of rock n roll...the legendary Les Paul tells his own rags-to-riches story in this feature-length documentary shot in HD. From his hometown in Waukesha to Chicago, Nashville, Hollywood and the National Inventors Hall of Fame, follow the life and times of this irrepressible superstar. Featuring a wall-to-wall soundtrack of greatest hits, American Masters - Les Paul: Chasing Sound! also includes interviews with B.B. King, Bonnie Raitt, Tony Bennett, Jeff Beck, Merle Haggard, Steve Miller and many more.
Anyone who knows music or guitars or music history knows about Les Paul. This video combines all 3 into one great documentary. It takes us from Les's earliest beginnings as an unknown artist encouraged by his mom to a famous recording artist with his own TV show and renowned inventor of music electronics. Recording artists know him as the developer of multi-track recording, also called "Sound-on-Sound" or overdubbing.
Les Paul invented: slap-back echo, phase shifting, and your old standard tape delay by working with Ampex Corporation. In the video, Les explains how he used the old-time record producer's trick of playing at one end of a long hallway or other structure while recording from the other end. He tells how one of the places where he lived was great for this effect that, today, we call "Reverb."
Includes 90 Minutes of Exclusive Extras:
Full-length performances from the Iridium Jazz Club with Les Paul and his Trio.
Vintage duets with Keith Richards, Kay Starr, Merle Haggard and Chet Atkins.
Classic TV appearances (Les Paul & Mary Ford at Home, Omnibus and more.
Extended conversations with Les Paul.
Photo Gallery.
A must have for any lover of music!