---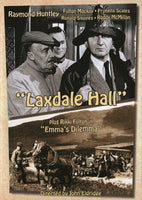 LAXDALE HALL (1953) Region One (Playable in North America – The US, Canada, Mexico, etc.) B&W 75 min. Beautiful re-mastered print. (Plus: EMMA'S DILEMMA (1950) B&W 8 min. Silent. Starring: Rikki Fulton) New lower price!

Starring: Ronald Squire, Kathleen Ryan, Raymond Huntley, Sebastian Shaw , Fulton Mackay, Jameson Clark, and Prunella Scales. Directed by John Elridge.
LAXDALE HALL (aka SCOTCH ON THE ROCKS), a rarely seen British comedy receiving its first release to home entertainment, is a 1952 film directed by John Eldridge and starring Ronald Squire, Kathleen Ryan, Raymond Huntley, Prunella Scales, Fulton Mackay, Roddy McMillan, Jameson Clark and Jean Colin, with Rikki Fulton as a poacher in his first film role. The few residents of Laxdale who own cars are refusing to pay their road fund licence because of the poor state of the only road which links them to the rest of Scotland. A parliamentary delegation including Samuel Pettigrew, M.P. (Raymond Huntley) and Andrew Flett (Fulton Mackay) is dispatched to the Scottish Highlands to quell the rebellion! Along the way they encounter resistance from school teacher Morag McLeod (Prunella Scales, in her first film) and her roguish dad, Roderick McLeod (Jameson Clark). With a brief appearance by Rikki Fulton in his film debut as a salmon poacher there's plenty of action and laughter. Filmed amongst the beautiful scenery of Applecross, Laxdale Hall is not to be missed.
Also featuring: EMMA'S DILEMMA a silent comedy made by Rikki Fulton who plays all the parts. A tale of a young woman and her baby in terrible peril!
"The humor of LAXDALE HALL is subtle and gentle, but very funny, in much the same way as that in Bill Forsyth's pictures (Local Hero, Comfort and Joy) three decades later." – TV Guide