---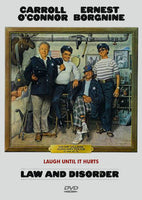 Sale
Law and Disorder 1974 DVD (Region 1 - Playable in North America - The US, Canada, Mexico, etc.) Color. Widescreen. New, lower price!

Starring: Carroll O'Connor, Ernest Borgnine, Ann Wedgeworth, Anita Dangler, Leslie Ackerman, Karen Black. Directed by Ivan Passer.

Set in the lower east side of Manhattan, this film perfectly captures the mid 70's. Willie (Carroll O'Connor) and Cy (Ernest Borgnine) are regular working guys who join an auxiliary police force in order to curtail crime in their neighborhood. Although a spoof in many aspects, there are many dramatic vignettes -- including a tear-jerker ending! The film was shot on-location -- Grand Street, Canal Street, the FDR Drive -- it's lower Manhattan at it's finest. If you want to see what it was like to be involved in a volunteer police group before PC's and cellular phones modernized the force, here it is.
An overlooked gem of a film! Rare!
"Willie and Cy are buddies having the laugh of their lives playing amateur cops...but it's no laughing matter!"