---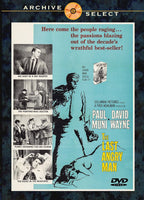 The Last Angry Man (1959) Region One (Playable in North America – The US, Canada, Mexico, etc.) Black and white. Approx. 100 min.
Starring: Paul Muni, David Wayne, Betsy Palmer, Billy Dee Williams, Luther Adler, Joby Baker, Jay Adler, Dan Tobin, Robert F. Simon, Fred Aldrich, Godfrey Cambridge. Written by Richard Murphy (adaptation) and Gerald Green (novel) Directed by Daniel Mann
Dr. Sam Abelman (Paul Muni) is a Jewish doctor contentedly spending his autumn years serving his own Brooklyn neighborhood. But when his nephew, would-be journalist Myron (Joby Baker), writes an article about him, it draws the attention of a producer, Woodrow Thrasher (David Wayne), who believes Abelman a good candidate for a TV show. The doctor, however, is suspicious of the whole enterprise, thinking both Myron and Thrasher are simply out to make a fast buck.
The movie was nominated for the Academy Award for Best Actor (Paul Muni) and Best Art Direction-Set Decoration, Black-and-White (Carl Anderson, William Kiernan).
"Here come the people raging... the passions blazing out of the decade's wrathful best-seller! No Other Man Could Play It!"