---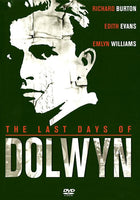 Sale
The Last Days of Dolwyn (Women of Dolwyn) 1949 DVD (Region 1 - Playable in North America - The US, Canada, Mexico, etc.) B&W  Approx. 95 min (closed captioned) Beautiful.
Starring: Edith Evans, Richard Burton, Emlyn Williams, High Griffith, Barbara Couper. Written and co-directed (with Russell Lloyd) by Emlyn Williams
The story is set in 1892 in and around the small peaceful farming village of Dolwyn.  Dolwyn is known for its friendly folk and its simple ways. But this idyllic retreat in Mid-Wales is about to be thrown into utter turmoil thanks to the arrival of a ruthless water company. Due to geological difficulties the only way to complete their planned reservoir is to flood the village of Dolwyn. The campaign is lead by an embittered local who has returned from the big city and is intent on destroying the place he once called home. Are the village residents capable of fighting the industrialists and saving their home? Or is this truly the last days of Dolwyn? This compelling and tragic British melodrama is known for being one of Richard Burton's earliest roles on film.
The Guardian says: "The young Richard Burton making his impressive movie debut."
The Film Review: "The Last Days of Dolwyn has the distinction of being the film that launched the colourful career of Richard Burton. But that is not the only thing that makes it worth watching."