---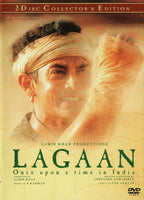 Sale
Lagaan – Once Upon a Time in India (DVD) 2001 Approx. 215 min. 2.35:1 aspect ratio Color Excellent 2-Disc set in Hindi with English subtitles. With lots of special features, including: deleted scenes, filmographies, theatrical trailer and a second disc "Chale Cahalo" (in Hindi) "The Lunacy of Filmmaking" Approx. 142 min. Color 1.85:1 aspect ratio. (Region 1 - Playable in North America - The US, Canada, Mexico, etc.) New, lower price!

Starring: Aamir Khan, Gracy Singh, Rachel Shelley and Paul Blackthorne. Written by: K. P. Saxena (Hindi Dialogue), Ashutosh Gowariker (English Dialogue). Directed by Ashutosh Gowariker.
Lagaan – Once Upon a Time in India is set in the Victorian period of India's colonial British Raj. The story revolves around a small village whose inhabitants, burdened by high taxes, find themselves in an extraordinary situation as an arrogant officer challenges them to a game of cricket as a wager to avoid the taxes. The narrative spins around this situation as the villagers face the arduous task of learning the alien game and playing for a result that will change their village's destiny.
Lagaan is a must-see movie for anyone with an interest in Indian cinema or cinema beyond Hollywood. Although very much within the mainstream Hindi cinema of Bombay/Mumbai in terms of its stars, use of song and dance and its length, Lagaan took a gamble with the domestic Indian audience. It breaks all contemporary conventions of Hindi film by being set in an Indian village during the British Raj, far away from the more usual modern metropolitan cities and exotic foreign locations.
Lagaan seemed destined to fail internationally, (given that it features a cricket match lasting longer than the average Hollywood film and avoids the melodramatic kitsch, camp style that is celebrated in the West as "Bollywood") yet Lagaan was not only a huge hit domestically but was also only the third Indian film to ever be nominated for an Oscar in the foreign-language category, thanks to its outstanding performances, music and narrative, and Lagaan is on the BBC's list of the "Top 50 Films You Must See Before You Die"!