---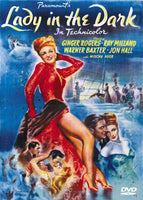 Sale
Lady In The Dark 1944 DVD (Region 1 - Playable in North America - The US, Canada, Mexico, etc.) Color. New - temporary - lower price!

Starring: Ginger Rogers, Ray Milland, Warner Baxter, Jon Hall, Barry Sullivan. Written by Frances Goodrich and Albert Hackett, based on the play by Moss Hart. Directed by Mitchell Leisen.
Ginger Rogers shines as "Allure" magazines editor-in-chief, who suffers from headaches and continuous daydreams and undergoes psychoanalysis to determine why.
"The minx in minks with a yen for men!"
Great Ginger Rogers vehicle! A must see!
"GINGER ROGERS...lady in the dark with lovelight in her eyes!"
"JON HALL...In his arms, in his arms, always a girl in his arms!"
"WARNER BAXTER...he was a husband and he wasn't hers!"
"RAY MILLAND...he showed the light to the lady in the dark!"