---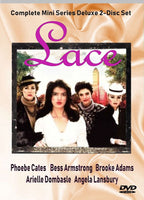 Sale
Lace 1984 DVD TV Mini-series 2-Disc set Complete 225 minutes Color (Region 1 - Playable in North America - The US, Canada, Mexico, etc.)
Starring: Phoebe Cates, Bess Armstrong, Brooke Adams, Arielle Dombasle, Angela Lansbury Based on the best selling novel by Shirley Conran. Directed by William Hale.
Beautiful, embittered Lili (Phoebe Cates) has clawed her way from porn princess to international film idol. She has money, fame, everything she wants - everything except revenge. Abandoned as a baby, Lili is determined to find, and destroy, her long-lost mother. She narrows the candidate list down to three former boarding-school friends, all of whom have gone on to exciting and privileged lives. And one of whom is about to be very, very sorry she left little Lili all those years ago.
A starry cast sweeps through two and a half decades of exquisite excess in this high-fashion, high-drama, utterly delicious emotional wallow based on Shirley Conran's bestseller. Sharpen your claws.