---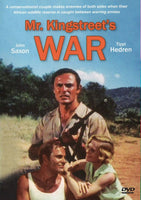 Sale
Mister Kingstreet's War (AKA Heroes Die Hard) 1971 Region One (Playable in the US, Canada, etc.) Approx. 92 min.
Starring: John Saxon, Tippi Hedren, Rossano Brazzi Directed by Percival Rubens Written by Percival Rubens and George Harding
Set in 1939 immediately prior to the onset of World War II, an American couple, James Kingstreet and his wife make their home and manage a wildlife preserve located between Italian-governed Abyssinia and British Kenya as war approaches. Kingstreet's sole assistant is a native and his one-eyed brother. Kingstreet and his spouse will not accommodate either the English or Italians threatening their spread, antagonizing the commanding major of the latter group and prepare to halt the invasion of their property.
At the end of shooting, Tippi Hedren discovered that the big cats used in the production had no place to go and would likely languish in small cages. This prompted her to obtain a parcel of land on her own to establish a home with a natural setting for retired big cats. It is called Shambala and exists to this day.