---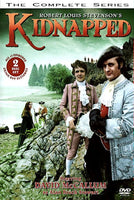 Sale
Kidnapped 1978 DVD (Region 1 - Playable in North America - The US, Canada, Mexico, etc.) Complete Series. Two-disc set.
Starring: David McCallum, Andrew Keir, Ekkehardt Belle, Patrick Magee, Ferdy Mayne, June Barry
When young David Balfour (Ekkehardt Belle) arrives at his uncle's bleak Scottish house to claim his inheritance, his relative tries to murder him then has him shipped off to be sold as a slave in the colonies. Luckily for the lad, he strikes up a friendship with Alan Breck Stewart (the wonderful David McCallum), who is on the run after Bonnie Prince Charlie's (Christopher Biggins) defeat at Culloden. When a ship's captain tries to kill Breck for his money the two manage to get to land and set out for Edinburgh, dodging the ruthless Redcoats along the way. .
Based on the novels "Kidnapped" and "Catriona" by Robert Louis Stevenson.
Long sought-after by classic television collectors and fans of Robert Louis Stevenson's work, this 13-part adaptation stars David McCallum (N.C.I.S., Sapphire and Steel, The Man from U.N.C.L.E.) as the rebellious Alan Breck Stewart. This ambitious serial (a co-production between HTV and Germany's Tele-Munchen) also features a host of British character actors, including: Bill Simpson, Patrick Allen, Andrew Keir, Patrick Magee and Frank Windsor.
All 13 episodes have been transferred from the original 16mm film elements especially for the DVD release.
"This is the most complete and best performance of any dramatized version of Robert Louis Stevenson's work." TV Journal