---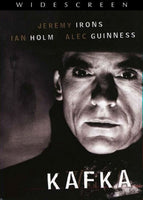 Sale
Kafka 1991 Color / B&W Widescreen (Region 1 - North America - the US, Canada, Mexico, etc.) Extremely rare, limited availability.

Starring: Jeremy Irons, Theresa Russell, Joel Grey, Ian Holm, Jeroen Krabbé, Armin Mueller-Stahl and Alec Guinness. Directed by Steven Soderbergh.
Jeremy Irons plays a fictional Franz Kafka, living in Prague in 1919. By day, Kafka works in a massive, impersonal insurance company. At night, he spends his time alone writing stories about men who turn into giant cockroaches. Although quiet and solitary, he becomes a suspect in a murder investigation conducted by Inspector Grubach (Armin Mueller-Stahl) when a friend of his turns up dead. Rather than being harassed by Grubach, Kafka decides to investigate his friend's murder on his own. Kafka speaks to his dead friend's girlfriend, Gabriela (Theresa Russell) and talks with gravestone carver Bizzlebek (Jeroen Krabbe). Kafka follows the clues to the Castle, a menacing tower that casts its shadow over the city and houses files on everything. He winds his way through the cellars and tunnels of the Castle, where he encounters the evil and insidious Dr. Murnau (Ian Holm), whom he hopes holds the solution to the murder.
"To solve a mystery he will enter a nightmare."
"KAFKA is the brilliant follow-up to Steven Soderburgh's debut film SEX, LIES, AND VIDEOTAPE. It is like its predecessor only insofar as it too is a chance-taker, a long-shot project, this time based on a script by Lem Dobbs (THE HARD WAY)." – IMDB Reviews Newsgroup