---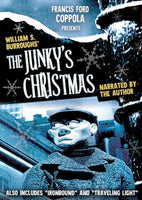 Sale
The Junky's Christmas (1993) DVD William S Burroughs with Ironbound and Traveling Light Region One - Playable in the US, Canada, Mexico, etc. Color and black and white. Shown in original aspect ratio 4:3. Total running time is approx. 68 min.
William S Burroughs' "The Junky's Christmas" plus "Ironbound" and "Traveling Light" Narrated by William S. Burroughs. Written by William S. Burroughs (story) and James Grauerholz (screenwriter). Directed by Nick Donkin and Melodie McDaniel.
Author William S. Burroughs, sitting by a roaring fire and a fully lit Christmas tree, takes down a book and reads us the story of Danny the Carwiper, who spends Christmas Day trying to score a fix, but finds the Christmas spirit instead. A beautiful combination of live-action and claymation - this is truly one-of-a-kind.

"Ironbound" is about a former submariner with an obsession with his past featuring the music of Joe Jackson and "Traveling Light" has a soundtrack by Van Morrison, along with Moreleigh Steinberg's interpretive dancing
Review: "What an odd little gem this collection turned out to be. I first became interested in buying this DVD because of my interest in the writings of William S. Burroughs and I was not disappointed. All 3 shorts (The Junky's Christmas, Ironbound, and Traveling Light) were produced by VH1 in the early 90's. My annual holiday viewing along with "A Charlie Brown Christmas"."