---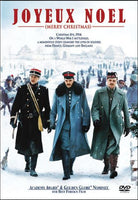 Sale
Joyeux Noel (Merry Christmas) 2005 DVD (Region 1 - Playable in North America - The US, Canada, Mexico, etc.) Widescreen. Color.
Starring: Diane Kruger, Benno Fürmann, Guillaume Canet. Written and directed by Christian Carion.

Joyeux Noel captures a rare moment of grace from one of the worst wars in the history of mankind, World War I. On Christmas Eve, 1914, as German, French, and Scottish regiments face each other from their respective trenches, a musical call-and-response turns into an impromptu cease-fire, trading chocolates and champagne, playing soccer, and comparing pictures of their wives. But when Christmas ends, the war returns...
Nominated as Best Foreign Language Film for: The Golden Globe Award, The Academy Award and The BAFTA Award.
"Without an enemy there can be no war. France 1914. A moment of humanity that made history. Christmas Eve, 1914. On a World War I battlefield, a momentous event changed the lives of soldiers from France, Germany and England."