---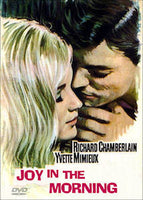 Sale
Joy in the Morning 1965 DVD (Region 1 - Playable in North America - The US, Canada, Mexico, etc.) Widescreen. Color. New price reduction!

Starring: Richard Chamberlain, Yvette Mimieux, Arthur Kennedy. Directed by Alex Segal.

Carl Brown (Richard Chamberlain) is a student in law school who wants to marry his sweetheart, Annie McGairy (Yvette Mimieux). The young couple deal with the usual tribulations of newlyweds, including sexual insecurities, while they struggle to keep their heads above water. Living in a tiny apartment on the shabby side of town, Carl and Annie get to know other people too poor or too different to fit in elsewhere in an upscale college town. When Annie becomes pregnant, she leaves Carl, not wanting to burden him so that he can continue with his education—causing them both to confront the most important decisions of their lives.
A beloved romantic drama based on the novel by Betty Smith.
"The course of young love never does run smooth..."
A best seller!
"Love is more than a good night kiss!"