---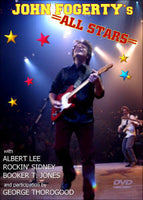 Sale
John Fogerty's All Stars 1985 DVD (Region 1 - Playable in North America - The US, Canada, Mexico, etc.) Color. Filmed in Hollywood.
Starring: John Fogerty, George Thorogood, Rockin' Sidney.
This dazzling and rare documentary special merges interview segments (including George Thorogood*) with an unforgettable performance by John Fogerty in front of a studio audience at the Chaplin Stage in Hollywood, California on January 31, 1985. Backed by his dream rhythm section, along with a male gospel quartet, and in front of an invited audience of 200 friends and colleagues, John performed some of his favorite old classic songs - many from his childhood, and none that he'd written. There are no special costumes, no lighting extravaganzas, no gimmicks. The focus is on the music, all of which aims for the purity of good sound. The overall orientation is toward rhythm and blues. This All-Star dream team included session ace Albert Lee, Booker T. Jones (Booker T & The M.G.'s) and the bottom end of the legendary Donald "Duck" Dunn, anchored by rock solid drummer Prairie Prince; throw in the wailing sax from Duane Eddy's classic early hits, and top it off with the gospel quartet - the end result was magical. The film winds up wildly with Fogerty rocking with Rockin' Sidney down in the Louisiana bayou.
A must for Fogerty fans everywhere. Highly recommended! Rare!

Songs include: Mary Don't You Weep, My Pretty Baby/Leave My Woman Alone, Let's Go, Let's Go, Let's Go-I Need Your Loving, I Confess, I'm A Man (Mannish Boy), There's No Love In You, Rock N' Roll Girls, Don't Mess With My Toot Toot.
*George Thorogood appears extensively in this documentary but does not perform.