---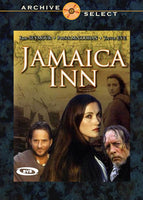 Sale
Jamaica Inn  1983 DVD (Region 1 - Playable in North America - The US, Canada, Mexico, etc.) Color. Approx. 157 min. Beautifully remastered! New, lower price!

Starring: Jane Seymour, Patrick McGoohan, Trevor Eve, John Mcenery, Billie Whitelaw, Vivian Pickles, Peter Vaughan.
Regarded as the very best adaptation of the Daphne du Maurier novel!
Set in 19th century Cornwall, a young orphan by the name of Mary Yellan (played exquisitely by Jane Seymour) is sent to live with her Aunt Patience(Billie Whitelaw) and Uncle Joss (Patrick McGoohan), landlords of the Jamaica Inn. As time passes by Mary soon begins to realize that her Uncle's Inn is the base for a gang of pirates who lure ships to their doom on the rocky coast. As Mary settles into her new home, matters start to take a sinister turn and she begins to fear for her own life.
 Region one. North American format (playable in the US, Canada and US territories).