---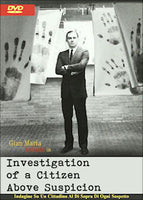 Sale
Investigation of a Citizen Above Suspicion (Indagine Su Un Cittadino Al Di Sopra Di Ogni Sospetto) 1970 DVD (Region 1 - Playable in North America - The US, Canada, Mexico, etc.) Italian Language. English Subtitles. English audio track (dubbed). Color.
Starring: Gian Maria Volonte, Florinda Bolkan, Giani Santuccio. Written by Elio Petri and Ugo Pirro. Directed by Elio Petri

The plain title of Elio Petri's film tells the bulk of the story. A policeman kills his mistress; the trail of clues leads back in his direction, yet such is his status, not to mention the force of his character, that his colleagues remain wary, or even incapable, of finding him guilty. Was he daring them to accuse him? Was he merely flaunting his power, or did he dream of finally being unmasked? The movie is fueled by sardonic rage at a system of authority that seems answerable to no one; its portrait of a loner and his lusts comes up frighteningly fresh, and the whole conceit would collapse without the muscular, rousing presence of Gian Maria Volonté in the central role. He, as much as Petri, hauls the movie into the realms of Kafka. With the beauteous Florinda Bolkan, plus a comic-sinister score, full of twanging springs, by Ennio Morricone. In Italian. (Italian title: Indagine Su Un Cittadino Al Di Sopra Di Ogni Sospetto)
Region One. North American Format. Best In The Web.