---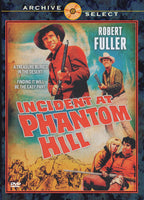 Incident at Phantom Hill (1966) Color Approx. 88 min. Playable in the US Re-mastered print - beautiful. Shown in its original theatrical aspect: 2:35:1.
Starring: Robert Fuller, Jocelyn Lane, Dan Duryea, Tom Simcox, Linden Chiles, Claude Akins, Noah Beery Jr., Paul Fix, Denver Pyle, Mickey Finn, William Phipps, Don Collier, Irene Kelly and John Bose. Directed by Earl Bellamy Written by Frank S. Nugent, Ken Pettus, and Harry Tatelman (story)
At the end of the Civil War, a major shipment of gold has been stolen and buried in the desert. Only one man knows the whereabouts of gold and the army sends Capt. Matt Martin (Robert Fuller) to arrest him and come back with the gold. Martin, his prisoner (Dan Duryea) and a handful of men enter Indian territory in search of the precious cargo. The Apaches, outlaws and storms will make it not too easy.
"A MILLION DOLARS IN GOLD WAITS FOR 2 DESPERATE MEN and a BLONDE WILDCAT!"