---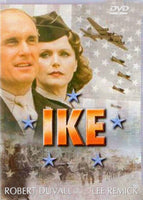 Sale
Ike: The War Years DVD 1979 (Region 1 - Playable in North America - The US, Canada, Mexico, etc.) TV Miniseries. 2-Disc Set. Remastered. Color. New lower price!

Starring: Robert Duvall, Lee Remick, Darren McGavin, Dana Andrews.
Robert Duvall stars as Gen. Dwight D. Eisenhower in this made-for-TV biography, which focuses on his career in the military during World War II as he helped to guide Allied forces to victory. Along with Eisenhower's military exploits and political aspirations, Ike: The War Years also offers an intimate perspective on his personal life, in particular his relationship with Kay Summersby (Lee Remick), the young Irish driver who later claimed to have had a long-term romantic relationship with him.
A sweeping, multi-part miniseries of our Greatest Generation!
"