---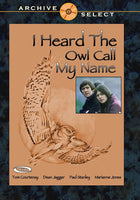 Sale
I Heard The Owl Call My Name 1973 DVD (Region 1 - Playable in North America - The US, Canada, Mexico, etc.) Color Approx. 90 min.
Starring: Tom Courtenay, Dean Jagger, Paul Stanley, Marianne Jones
In this simply, yet touching tale, a young priest – Father Brian (Tom Courtenay) – is sent by his bishop deep into the seacoast wilds of British Columbia to a parish of Kwakiutl natives called The Kingcome. They live in an inlet village and take their sustenance from the sea and from the forest. The bishop has not told Father Brian this, but the priest has only two years left to live. Among these vanishing people, Father Brian learns the true meaning of life and not to fear death. Through his faith and humanity, he becomes part of the village, of the Kwakiutl's themselves and witness to their rituals and beliefs and the sad, gradual destruction of their culture.
"I HEARD THE OWL CALL MY NAME" rates as one of those rare dramatic presentations that is not easily forgotten.
Based on the beloved book by Margaret Craven.
Leonard Maltin: "Beautiful film translation of Margaret Craven book."