---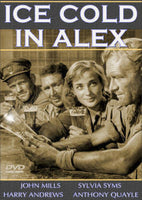 Sale
Ice Cold In Alex DVD (aka Desert Attack) Region 1 (Playable in North America - The US, Canada, Mexico, etc.). Widescreen. Black & White. New lower price - for a limited time!

Starring: John Mills, Sylvia Syms, Anthony Quayle, Harry Andrews. Directed by J. Lee Thompson

A tense, engrossing adventure set in the 1942 Libyan war zone in the hot Western Desert. A British ambulance officer escapes the siege in Tobruk and tries desperately to get his passengers to safety in Alexandria, where he dreams he will have the luxury of an 'ice cold' glass of beer. His passengers include a stranded hospital nurse, a Sergeant-Major and a stray South African Officer, trying to return to his unit. Despite saving the group from the Germans, something is not quite right about the last passenger.
A must see for fans of WWII films!
"From Tobruk to Alexandria... they had to make it... even if one of 'em was a traitor!"
International Critics Award for the Best Film - Berlin Film Festival 1958