---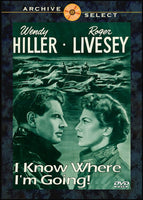 Sale
I Know Where I'm Going! 1945 DVD (Region One - Playable in North America - The US, Canada, Mexico, etc.) 1945 B&W 91 Minutes Beautifully re-mastered
Starring: Wendy Hiller, Roger Livesey, Pamela Brown, Finlay Curry and Petula Clark Written and directed by Michael Powell and Emeric Pressburger.
Assured, headstrong Joan Webster (Wendy Hiller) knows exactly what she wants and how to get it, until she's stranded in a rough, windswept Scottish village--in sight, but out of reach, of an island where a rich fiancée, a lavish wedding, and a loveless marriage await. While a raging storm prevents her crossing, a quiet, modest, and penniless Scottish laird named Torquil (Roger Livesey) slowly wins her cheerfully mercenary heart and upsets her carefully arranged plans with messy emotions. Michael Powell and Emeric Pressburger's much-loved romantic drama is a handsome work full of vivid, offbeat characters (Pamela Brown is especially striking as an earthy villager always accompanied by a pack of bloodhounds) living in a world that's part tradition and part myth. Villagers work and celebrate with the simple spirit of common folk ("We're not poor, we just haven't any money," Torquil admonishes the materialist Joan). Powell and Pressburger bring their lively manner and bold visual invention to the creation of his beautiful, but harsh primal paradise, culminating in the awesome spectacle of a massive whirlpool that could be the work of the "legend of Corryvreckan" or the stormy embodiment of Joan's hysterical heart.
Awash in mystic power of ancient castles and chanted legends, I Know Where I'm Going! is one of the most romantic visions of Britain's most magical directing team.
Includes:
An audio essay by Ian Christie
Behind-the scenes stills
Excerpts from Michael Powell's 1937 Feature The Edge of the World and 1978 documentary, Return to the Edge of the World
Photo essay of I Know Where I'm Going! exploring locations used in the film
Home movies of Michael Powell's Scottish expedition
Not to be missed.