---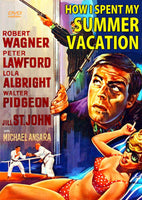 Sale
How I Spent My Summer Vacation 1967 DVD (Region 1 - Playable in North America - The US, Canada, Mexico, etc.) Color. 
Starring: Robert Wagner, Peter Lawford, Jill St. John, Walter Pidgeon, Lola Albright, Michael Ansara.

American Jack Washington (Robert Wagner) is hiding in Paris under an assumed name. He also sports a beard to hide his facial traits. One day he finds a job ad in the local paper. The agency interviewing him is a front for a secret organization hired to find him. At the job interview, the interviewers guess his real identity and tell him that he is accepted for the post. The job itself is that of a male companion for billionaire Lewis Gannet (Walter Pidgeon) who lives in a castle in the Alps at the Swiss-Italian border. Jack is taken there by helicopter and is uneasy about his employer's abode which looks like a fortress, complete with armed uniformed guards, guard dogs and hi-tech security... have they figured out his true identity?
"Crime and conspiracy on the bikini-splashed Riviera!"