---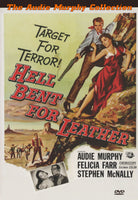 Sale
Hell Bent for Leather 1960 DVD (Region 1 - Playable in North America - The US, Canada, Mexico, etc.), Color Wonderful print - digitally remastered! New, lower price for a limited time!

Starring: Audie Murphy, Felicia Farr, Stephen McNally.
Clay Santell (Audie Murphy), an honest horse trader, stops in the town of Sutterville after having his horse stolen. He is mistaken by the townspeople as a notorious murderer named Travers. The townspeople capture Clay and turn him over to egotistical, crooked sheriff: Marshall Harry Deckett (Stephen McNally) who is out to gain personal glory, even if it means capturing and punishing the wrong man. Deckett pursues Clay and forces him to grab a female hostage named Janet, (Felicia Farr). Eventually, Janet sides with Clay and assists him in a long chase. Will Clay get away from the corrupt and self-serving Marshall Deckett? Will Clay be able to prove his innocence?
Wonderful print - digitally remastered!