---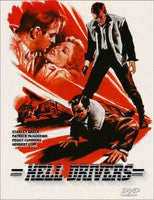 Sale
Hell Drivers 1957 DVD (Region 1 - Playable in North America - The US, Canada, Mexico, etc.) Widescreen. Black & White. Beautiful, re-mastered print!
Starring: Stanley Baker, Patrick McGoohan, Peggy Cummins, Herbert Lom, David McCallum, Sean Connery, Sid James, Alfie Bates, Gordon Jackson, William Hartnell, Jill Ireland and Wilfrid Lawson. Written by Cy Endfield and John Kruse Directed by Cy Endfield.

A thrilling action-noir - you have never seen anything like the hairpin twists and turns of Hell Drivers !
A corrupt road-hauling company forces its workers to make death-defying cross-country chases to collect bonuses. When ex-con Tom (Stanley Baker) signs up, he becomes a threat to the viciously ambitious Number One driver (Patrick McGoohan) and the stakes are raised when a fatal accident has Tom vowing revenge.
A dynamite cast of hard-boiled character actors including: Herbert Lom, Peggy Cummins, Sid James, William Hartnell, Gordon Jackson, Alfie Bass, David McCallum, and a young Sean Connery. BAFTA nominated for Best Screenplay.