---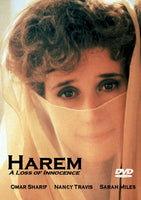 Sale
Harem 1986 (DVD) Beautiful 2-Disc set Color Approx. 185 min. TV Movie (Playable in North America - The US, Canada, Mexico, etc.)
Starring: Nancy Travis, Julian Sands, Omar Sharif, Art Malik, Ava Gardner, Sarah Miles, Yaphet Katto. Written by Karol Ann Hoeffner. Directed by William Hale.
Jessica (Nancy Travis), a young British girl, goes off to Arabia with her father to be with her fiancé (Julian Sands) when he's called there suddenly on diplomatic duty. On a tourist journey she's kidnapped by what appears to be a Beduion tribe and sold into the harem of the Sultan (Omar Sharif). The man that took her captive is not actually a Beduion but an Oxford educated revolutionary (Art Malik) who traded Jessica for the release of his friends from the Sultan's prison. As her fiancé struggles to free her from the harem he inadvertently hires the very man who put her there to get her out. Meanwhile, Jessica is fending of the Sultan's advances and coming to know a new way of life. Romance, political intrigue, and the jealousies of the harem all threaten Jessica's narrow view of the world. If she escapes will she actually be able to return to life in Victorian England?
Ava Gardner's last film. She is wonderful as the Sultan's one wife, the Kadin.