---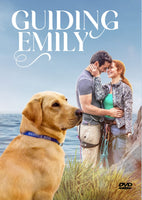 Guiding Emily (2023) DVD Color Approx. 84 min. Shown in its original 1.78:1 aspect ratio. (Region 1 - Playable in North America - The US, Canada, Mexico, etc.)
Starring: Sarah Drew, Eric McCormack, Antonio Cupo, Sharon Taylor, Christine Willes, Matty Finochio, Peter Benson and Toby Levins. Written by Betsy Morris, based on the novel "Guiding Emily" by Barbara Hinske. Directed by Andy Mikita.
Emily (Sarah Drew) sees her life veer off course after an accident leaves her permanently blind and she struggles to cope with her new reality. Meanwhile, a potential guide dog named Garth (voiced by Eric McCormack) faces his own struggles in the training department. With Garth by her side Emily takes on her biggest challenges yet.
"Guiding Emily" is based on the novel of the same name by Barbara Hinske, which was first published in 2020. If you loved the movie and want to read more about Emily and Garth, you'll be happy to know that "Guiding Emily" is actually the first book in a series, followed by: Book 2: "The Unexpected Path" Book 3: "Over Every Hurdle" and Book 4: "Down the Aisle".