---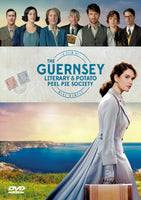 The Guernsey Literary and Potato Peel Pie Society (2018) DVD Playable in North America – the US, Canada, Mexico, etc. Color Shown in original aspect ratio 1.85:1 Widescreen Approx. running time 118 min.
Starring: Lily James, Michiel Huisman, Glen Powell, Jessica Brown Findlay, Katherine Parkinson, Matthew Goode, Tom Courtenay, Penelope Wilton, and Nicolo Pasetti. Written by Kevin Hood, Don Roos, and Tom Bezucha, based on the best-selling novel "The Guernsey Literary and Potato Peel Pie Society" by Mary Ann Shaffer and Annie Barrows. Directed by Mike Newell.
In 1941, on the island of Guernsey, four friends are stopped by soldiers for breaching curfew during German occupation. To avoid arrest, they say they were returning from a meeting of their book club, hastily named "The Guernsey Literary and Potato Peel Pie Society".
Five years later, in January 1946, the author Juliet Ashton (Lily James) is promoting her latest book, written under her pen name Izzy Bickerstaff. She has just been contracted through her publisher Sidney Stark (Matthew Goode) to write stories for The Times Literary Supplement about the benefits of literature. Juliet receives a letter from Dawsey Adams (Michiel Huisman), a Guernsey man who has come into possession of her copy of Charles Lamb's Essays of Elia and who wants to know where to find a bookshop in England to buy another book by the same author. He tells her that he is part of "The Guernsey Literary and Potato Peel Pie Society", which meets every Friday night. Juliet sends a book by Lamb and his sister, Tales from Shakespeare, in exchange for more information about the society and how it came into being.
Juliet decides she would like to write about the society and arranges to travel to the island, despite Sidney's reservations. Her American boyfriend Mark (Glen Powell) proposes before Juliet embarks on the ferry, and she accepts. Upon arrival at Guernsey, Juliet attends a meeting of the society where she is treated as a celebrity by the members.