---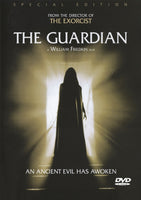 Sale
The Guardian - Special Edition 1990 DVD (Region 1 - Playable in North America: The US, Canada, Mexico, etc.) Color Widescreen (Enhanced 16:9 - 1.85:1) New, discounted price!

Starring: Jenny Seagrove, Dwier Brown, Carey Lowell, Miguel Ferrer, Gary Swanson. Written by William Friedkin and Stephen Volk from the novel "The Nanny" by Dan Greenburg. Directed by William Friedkin
Following "The Exorcist", Oscar-winning director William Friedkin returned with another classic tale of supernatural horror in "The Guardian".
Phil and Kate (Dwier Brown and Carey Lowell) are a young couple living an idyllic life in their LA home. When Kate becomes pregnant with their first child they begin the search for a nanny to care for their newborn. The lovely young Camilla (Jenny Seagrove) seems like the perfect candidate for the live-in role. She's a beautiful woman who devotes herself to looking after the baby, but it soon becomes apparent the nanny is not all she seems...
"Tonight, while the world is asleep... an ancient evil is about to awaken."
Special Features:
"Return to the Genre" - An interview with William Friedkin
"The Nanny" - An interview with Jenny Seagrove
"Don't Go into the Woods" - An interview with Stephen Volk