---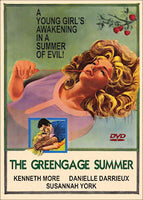 The Greengage Summer (Loss of Innocence) 1961 DVD (Region 1 - Playable in North America - The US, Canada, Mexico, etc.) Color. New pricing!

Starring: Kenneth More, Susannah York, Danielle Darrieux, Jane Asher, Elizabeth Dear, Claude Nollier, Richard Williams, Maurice Denham. Written by Howard Koch based on the novel "The Greengage Summer" by Rumer Godden. Directed by Lewis Gilbert.

Susannah York stars in this coming-of-age drama based on the novel by Rumer Godden. After her mother falls ill while traveling in France, 16-year-old Joss (York) is forced to take charge of her younger siblings. They go to stay at The Chateau, a hotel frequented by 40-something Eliot (Kenneth More), a charming drifter who may not be all that he seems. As the summer progresses Joss develops an unrequited infatuation with Eliot, unaware of the attentions of his jealous lover Madame Zisi (Danielle Darrieu).
"A Summer of Evil...And a Young Girl's Cruel Awakening!"