---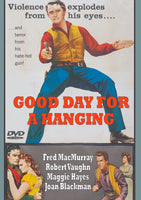 Good Day For A Hanging (1959) DVD Color Approx. 85 min. Shown in original aspect ratio 1.85:1 (16:9 enhanced) With optional subtitles in English. Digitally remastered, beautiful picture and sound. Region One - Playable in the US, Canada, Mexico, etc.
Starring: Fred MacMurray, Maggie Hayes, Robert Vaughn, Joan Blackman. Written by Daniel B. Ullman and Maurice Zimm, based on the short story by John Reese Produced by Charles H. Schneer Directed by Nathan Juran
Six men think they saw Eddie "The Kid" Campbell (Robert Vaughn, The Man from U.N.C.L.E.) shoot down Marshal Cain in cold blood. But only respected lawman Ben Cutler (Fred MacMurray) would swear to it in court. For Ben was determined to see The Kid hang for his crime. But was it because Campbell was a murderer or because Cutler's daughter (Joan Blackman) was The Kid's sweetheart, and no father would ever let his little girl marry an outlaw? Sentenced to the gallows, Campbell's sensitive demeanor soon convinces everyone that he's been framed. Everyone, that is, except for Ben Cutler. Only Ben knows whether The Kid's truly guilty or not, and justice will be done, even if he has to take the law in his own hands.
"Bloody, blistering violence as a baby-face goon explodes against the girl who loves him...while the mob stands ready to tear out his guts before the law can hang him!"