---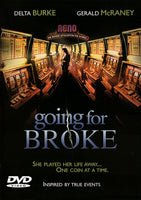 Sale
Going for Broke (DVD) 2003 Color (Playable in North America - The US, Canada, Mexico, etc.) Full-frame New price reduction (limited time).

Starring: Delta Burke, Gerald McRaney, Ellen Page, Matthew Harbour
With the innocent dropping of a few coins into a video poker machine, Laura Bancroft's world is about to change forever. Inspired by true events, GOING FOR BROKE, is the compelling, hard-hitting story of one woman's overwhelming addiction to gambling. Two-time Emmy Award winner Delta Burke stars as Laura, a woman who seemingly has everything – a loving husband (Gerald McRaney), two devoted kids (Ellen Page and Matthew Harbour) and a prestigious new job as the head of fundraising for the Children's Chronic Illness Foundation in Reno, Nevada. But Laura's organized world crumbles when she unexpectedly wins a $100 jackpot while visiting a local casino… driving her into the secretive, compulsive world of habitual gambling. Here obsessive dream of that "one big win" soon begins to take its toll on her job, her family, and the Bancroft's household finances – pushing Laura to further acts of desperation. GOING FOR BROKE is a hard hitting, gripping look at one woman's struggle with a very real, very devastating problem.
"She played her life away...One coin at a time."