---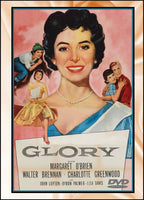 Glory 1956 DVD (Region 1 - Playable in North America - The US, Canada, Mexico, etc.) Color Widescreen
Starring: Margaret O'Brien, Walter Brennan, Charlotte Greenwood, John Lupton and Byron Palmer. Written by: Peter Milne Directed by: David Butler.
Clarabel Tilbee (Margaret O'Brien) lives on a Kentucky horse farm and has a special love for the filly Glory. With the help of wealthy Chad (John Lupton), and a sympathetic trainer (Walter Brennan), Clarabel prevents Glory's sale and keeps her to train her and eventually enter the Kentucky Derby. Filmed on location at Calumet Farms in Lexington Kentucky and Churchill Downs in Louisville Kentucky.
Margaret O'Brien's singing voice is dubbed by Lawrence Welk favorite Norma Zimmer.
Very few prints of GLORY exist. After an extensive search we found what we believe to be the best surviving elements. We are pleased to make this available here on DVD. The quality is good – but one should not expect state-of-the-art re-mastered quality. This is not a studio release.