---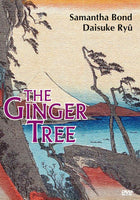 Sale
The Ginger Tree DVD (Region 1 - Playable in North America - The US,Canada, Mexico, etc.) 2-Disc Set. Color. Miniseries. Beautifully re-mastered! Close captioned. New, lower price (for a limited time).

Starring: Samantha Bond, Daisuke Ryu, Joanna McCallum, Fumi Dan, Adrian Rollins, Noriko Aida, Togo Igawa. Written by Christopher Hampton, Oswald Wynd. Directed by Anthony Garner, Marimasa Matsumoto.

In 1903, a young Scotswoman named Mary Mackenzie sets sail for China to marry her betrothed, a military attache in Peking. But soon after her arrival, Mary falls into an adulterous affair with a young Japanese nobleman, scandalizing the British community. Casting her out of the European community, her compatriots tear her away from her small daughter. Abandoned and alone, Mary learns to survive over forty tumultuous years in Asia, including two world wars and the cataclysmic Tokyo earthquake of 1923, carving out a life for herself in Japanese society, despite the hardships and ostracism she faces as both a Westerner and a woman.  
A wonderful, moving story of love against all odds.
Winner of two BAFTA Awards!