---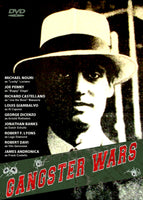 Sale
Gangster Wars 1981 DVD (Region 1 - Playable in North America - The US, Canada, Mexico, etc.) Color.
Starring: Michael Nouri, Joe Penny, Richard Castellano, Brian Benben, Robert Davi, Richard S. Castellano, Louis Giambalvo, Markie Post. Directed by Richard Sarafian.

The story of three teenagers, based on real life gangsters: Charles "Lucky" Luciano (Michael Nouri), Benjamin "Bugsy" Siegel (Joe Penny) and Michael Lasker (Brian Benben) (modeled after Meyer Lansky), growing up in New York's ghettos during the early 1900s to their rise though organized crime. Al Capone, Dutch Schultz, Legs, Diamond, Arnold Rothstein, "Joe the Boss" Masseria,  Vito Genovese, and Frank Costello all clash and converge in this deadly feature film version of the notorious 1981 television series.