---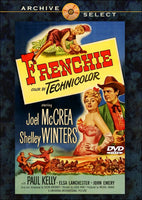 Sale
Frenchie 1950 DVD (Region 1 - Playable in North America - The US, Canada, Mexico, etc.) Color Beautifully restored!
Starring: Joel McCrea, Shelley Winters, Paul Kelly, Elsa Lanchester, Marie Windsor, John Russell and Regis Toomey. Written by Oscar Brodney. Directed by Louis King.
Frenchie Fontaine (Shelley Winters), orphaned at 15, has made a comfortable living running a New Orleans casino. Now, moving west to track down those responsible for her father's death, she buys a casino near a town where Pete Lambert (Paul Kelly), one of her father's killers, resides, and enlists the help of the local sheriff, Tom Banning (Joel McCrea). A series of mishaps unexpectedly lands Tom in prison -- and Frenchie, having fallen in love with him, is left on her own to sort out the mess.