---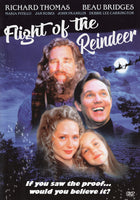 Flight of the Reindeer (The Christmas Secret) (2000) DVD (Playable in the US, Canada, Mexico, etc.) Color, Shown in original aspect ratio 1.33.1 Run time approx. 84 min. Beautifully restored print. Gorgeous picture and sound.
Starring: Richard Thomas, Beau Bridges, Maria Pitillo, Jan Rubes, John Franklin, Debbie Lee Carrington, Taylor Reid, Meghan Black , James Kirk. Written by Robert Sullivan (book), Glenn Wolff (book), J. Porter (book) and Bruce Graham (teleplay). Directed by Ian Berry.
In this magical, festive story, a Science Professor sets out to prove that reindeer really can fly. When a student hands him a mysterious old manuscript on unusual reindeer phenomena, the academic recalls a vivid childhood memory of a reindeer that saved him from falling out of a tree. Inspired by the recollection, he sets out to prove his theory, discovering the true meanings of faith and Christmas along the way. (Based on the novel: "Flight of the Reindeer: The True Story of Santa Claus and His Christmas Mission")
"If you saw the proof, would you believe it?"