---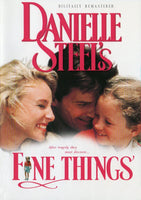 Danielle Steel's Fine Things (1990) DVD Color Approx. 137 minutes (Playable in North America - The US, Canada, Mexico, etc.) Digitally remastered. Beautiful print.
Starring: D.W. Moffett, Tracy Pollan and Cloris Leachman Based on "Fine Things", a novel by by Danielle Steel Screenplay written by Peter Lefcourt Directed by Tom Moore
A young executive, Bernie Fine (D.W. Moffett), is desperately looking for love. Although devoted to his work, he still feels unfulfilled until he meets his perfect match, a divorcee (Tracy Pollan). He marries her and at the same time takes on her young daughter (Judith Hoag). All is well until the daughter's natural father (Noley Thornton) arrives on the scene, demanding money for giving up custody of her.