---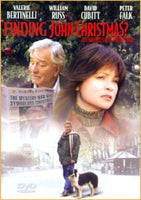 Sale
Finding John Christmas 2003 DVD (Region 1 - Playable in North America - The US, Canada, Mexico, etc.) Color. Newly remastered with optional close captions and a new lower price for a limited time only!

Starring: Peter Falk, Valerie Bertinelli, David Cubitt

A sequel to the previous year's A Town Without Christmas, with Peter Falk reprising his role as versatile guardian angel Max. Valerie Bertinelli plays Kathleen McAllister, a divorced small-town nurse whose depression over the fact that the hospital ER she maintains may be forced to shut down because of a $100,000 debt is briefly lifted when she spots a newspaper picture taken by photojournalist Noah Greeley (David Cubitt). The picture shows an act of bravery performed by Noah's firefighter brother Hank (William Russ), who mysteriously left town 25 years ago and hasn't been seen since. Hank would like to quietly slip back into town without explanation or fanfare, but this proves impossible when Noah's newspaper posts a $50,000 reward to identify Hank, known only to the public as "John Christmas." And there's something, very, very curious about that photo: It also shows a Santa Claus suit seemingly floating in midair without an occupant.

 (***IMPORTANT: This DVD will play on all North American and U.S. players, unlike Region 2 and Region 0 discs on other sites.)
Recently re-mastered with optional close captions for the hard of hearing.