---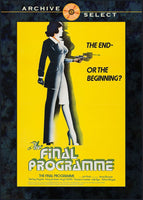 The Final Programme (The Last Days of Man on Earth) 1974 DVD (Region 1 - Playable in North America - The US, Canada, Mexico, etc.) Digitally restored with special features! With a new, lower price!

Starring: Jon Finch, Jenny Runacre, Hugh Griffith, Patrick Magee, Sterling Hayden, Ronald Lacey, Harry Andrews, Graham Crowden and George Coulouris. Based on the novel The Final Programme by Michael Moorcock. Designed, written and directed by Robert Fuest.
Jon Finch heads an impressive cast as the flamboyant anti-hero of this dystopian, darkly humorous sci-fi thriller from cult director Robert Fuest (Dr Phibes) The Final Programme is based on Michael Moorcock's acclaimed 1968 novel. It is presented here in a digital transfer from the original film elements, in its as-original theatrical aspect ratio.
In a far-off future, mankind is in a state of decay. But a group of scientists believe they have found the means to move humanity on to its next level in the creation of an ideal, self-replicating - and thus immortal - human being. Jerry Cornelius, Nobel Prize-winning physicist and playboy adventurer, is vital to the project's success: his recently deceased father devised the formula of this 'final programme'. However, the formula is captured on a microfilm hidden in the vaults of the family's mansion, and jealously guarded by Jerry's drug-addicted, psychopathic brother, Frank...
SPECIAL FEATURES:
Original theatrical aspect ratio
Original theatrical trailers
Image Gallery
Beautiful digital restoration
 "...superbly entertaining. Like an X-rated feature-length episode of The Avengers that s taken a walk on the pharmaceutical wild side, it's crazy, incoherent and mind melting." --Ralph McLean - The Irish News