---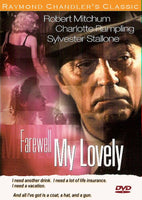 Sale
Farewell, My Lovely 1975 DVD (Region 1 - Playable in North America - The US, Canada, Mexico, etc.) Color.
Starring: Robert Mitchum, Charlotte Rampling, John Ireland, Sylvia Miles, Anthony Zerbe, Harry Dean Stanton, Burton Gilliam, Sylvester Stallone. Based on the classic novel by Raymond Chandler.

Of all the Philip Marlowes, Robert Mitchum's in Farewell, My Lovely resonates most deeply. That's because this is Marlowe past his prime, and Mitchum imbues Raymond Chandler's legendary private detective with a sense of maturity as well as a melancholy spirit. And yet there is plenty of Mitchum's renowned self-deprecating humour and charismatic charm to remind us of his own iconic presence. As in the previous 1944 film version, Murder, My Sweet, Marlowe searches all over L.A. for the elusive girlfriend of ex-con Moose Malloy, a loveable giant who might as well be King Kong. In typical Chandler fashion, the weary Marlowe uncovers a hotbed of lust, corruption and betrayal. Like Malloy, he's disillusioned by it all, despite his tough exterior, and possesses a tinge of sentimentality for the good old days. About the only current dream he can hold onto is Joe DiMaggio and his fabulous hitting streak.
Made in 1975, a year after Chinatown (shot by the same cinematographer, John Alonzo), Farewell, My Lovely is more straightforward and nostalgic, but still possesses a requisite hard-boiled edge, and the best kind of angst the 1970s had to offer. (By the way, you will notice Sylvester Stallone in a rather violent cameo, a year before his Rocky breakthrough.)
"Murder. Marlowe. Mitchum. No one is a saint in the City of Angels."