---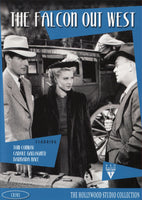 The Falcon Out West (1944) DVD Approx. 64 min. B&W New digital restoration!
Starring: Tom Conway, Carole Gallagher, Barbara Hale Directed by William Clemens
Tom Conway returns as Tom Lawrence The Falcon himself ready to foil another fiendish crime. This time, the stylish sleuth investigates the murder of a playboy millionaire in New York. The trail takes him all the way to Texas and the Wild West. As Tom finds out, however, they make their own rules out west. Warned off by gunmen and threatened with deadly snake venom, the big city detective has to watch his step. The Falcon is used to danger but this is the riskiest case he's ever tackled. Will he make it out of Texas alive? WHAT A SPOT FOR A SLEUTH!
Trivia: Tom Conway played "The Falcon" in ten of that series' entries, after his brother George Sanders starred in three.