---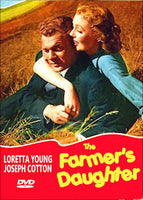 Sale
The Farmer's Daughter 1947 DVD (Region 1 - Playable in North America - The US, Canada, Mexico, etc.) Black & White. Re-mastered.
Starring: Loretta Young, Joseph Cotten, Ethel Barrymore, Cahrels Bickfrod, Rose Hobart, Rhys Williams, Harry Davenport, Tom Powers, Lex Barker, Thurston Hall, Hames Arness. Written by Allen Rivkin and Laura Kerr based on the play by  Directed by Hella Wuolijoki.

When Loretta Young stepped up to accept her Academy Award for The Farmer's Daughter, the ever-youthful leading lady, who'd been in films since 1928, sighed 'At long last!' Young is cast as Katie Holstrum, an independently-minded Swedish girl who leaves her family's Minnesota farm to take a domestic job at the Washington DC home of congressman Glenn Morley (Joseph Cotten). Katie's outspokeness and Swedish common sense immediately endears her to Morley, his mother (Ethel Barrymore), and the family's crusty-but-kindly butler Clancy (Charles Bickford). Sensing that the political machine backing Morley isn't thoroughly honest, Katie takes an active hand in Washington politics, leading to her own nomination for a congressional seat. The machine-boss villains (depicted rather provocatively as right-wing reactionaries) try to discredit Katie on the eve of the election, but she is rescued by Morley, who of course has fallen in love with her.
Adapted from Juurakon Hulda (Hulda, Daughter of Parliament), a Finnish play written by Hella Wuolijoki (using the pen name Juhani Tervapää), which had originally been optioned as a potential vehicle for Ingrid Bergman, The Farmer's Daughter later matriculated into a weekly TV series, with Inger Stevens as Katie and William Windom as Morley.
Loretta Young won the Academy Award for Best Actress for The Farmer's Daughter.
"A Gal with Cultivating Ways ! A Gal Who Really Goes To Town !"